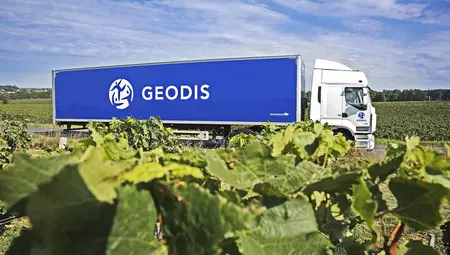 Tue 03/05/2016 - 12:00
600 GEODIS' vehicles already rebranded with an eco-friendly solution: the 3M envision wrap film in partnership with Megamark
Following a call for tenders, GEODIS has opted for the branding solution put forward by Megamark to rebrand its trucks. More than 600 new vehicles have already been filmed with this innovative solution.
The film chosen, the « Envision 480C 3M », is made without PVC or halogens and is phthalate-free. It contains 60% less solvents than comparable products and is partly made of bio-based materials. The film is printed with eco-solvent inks at a Megamark production unit.
The wrap film combines a limited environmental impact with the highest standards of quality for the transport and logistics industry. Therefore, this film has already won the "Best Environmental Substrate" award from the European Digital Press Association – an independent group that recognizes the best innovative technology in the graphics industry each year.
"This partnership with Megamark is another example that illustrates GEODIS' commitment to protecting the environment," explained Karen Heys, Purchasing Director at GEODIS. "By choosing environmentally friendly products and branding methods to cover its trucks, GEODIS once again shows its ability to integrate sustainable development at every level, in line with its Corporate Social Responsibility policy."
"We salute the bold and pioneering choice of GEODIS within the French market. This choice establishes the reputation of 3M and Megamark in our sector as they lead the way in the field of innovation. It also gives GEODIS a smaller environmental footprint, which is consistent with its corporate social responsibility," explained David Chanrion, Head of Communications for Megamark.
GEODIS is gradually dressing its fleet of around 10,000 vehicles in the colors of the Group. Branding of the first trucks began last summer, and will continue on a larger scale over the coming months.