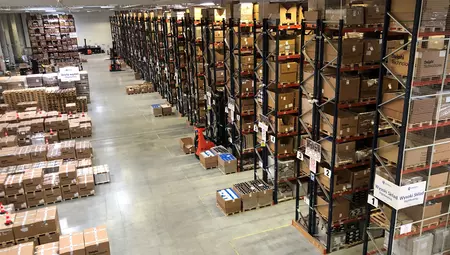 Wed 04/08/2021 - 09:11
DELPHI Technologies renews its trust in GEODIS for another 6 years
DELPHI Technologies (a brand owned by BorgWarner Inc.) and GEODIS in Poland have extended their collaboration until 2027. This new agreement that includes the expansion of warehouse space in Wrocław (Poland) will allow an increase of 50% in volumes handled.
Delphi Technologies is providing products for sophisticated vehicle systems with leading service solutions for the aftermarket. With new markets, in addition to the existing ones served in Central and Eastern Europe, Scandinavia and North Africa, Delphi Technologies needs a partner to support its growth. The agreement with GEODIS provides an increase in warehouse space in Wrocław by 5,000 square meters by 2027, resulting in a total of 20,000 sqm.
GEODIS in Poland will also continue to provide DELPHI Technologies Aftermarket additional support covering logistics optimization, customs services, return logistics, consumables purchasing, master data updates (part dimension scanning), as well as labelling or packing to meet specific legal or customer requirements.
"Poland is one of our key markets in the North, East and Central Europe region", says Thomas KRAUS, GEODIS President & CEO North, East and Central Europe. "To be the growth partner for our clients is part of our mission, vision and values at GEODIS. The expansion of the warehouse space reflects this and shows what we bring to the partnership with our customers."
The five-year old cooperation between GEODIS and the DELPHI Technologies' Aftermarket business began with the launch of a regional distribution center in Wrocław in 2017. The productive relationship over the period, combined with the quality of the service and the prime location of the warehouse facility, contributed to DELPHI's decision to extend the contract.
Mark COOK, EMEA Supply Chain Director, DELPHI Technologies said: "GEODIS has demonstrated its high level of flexibility with an in-house warehouse management system which was successfully adapted to our individual needs and markets served. This partnership extension with GEODIS in Wrocław represents a major step forward for our business and has been a key part of our Aftermarket distribution strategy. The success achieved over the past few years allows us to move forward with confidence and grow profitably."
Michał SZYMAŃSKI, Contract Logistics Operations Director, GEODIS in Poland says: "We are proud to be recognized as a trustful partner. For 5 years, GEODIS has demonstrated its reliability and flexibility. The difficult period during the COVID-19 pandemic posed a major challenge, in response to which GEODIS in Poland maintained a reliable level of services despite the significantly fluctuating demand and the necessary restrictions which were implemented in order to guarantee safe operations. We are now fully committed to support the growth of Delphi technologies in new markets".