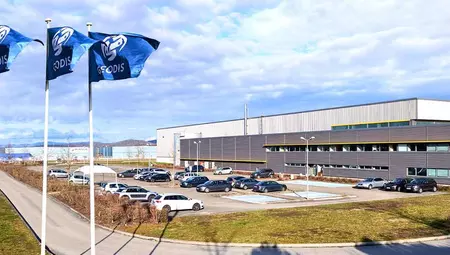 Tue 10/07/2018 - 12:00
GEODIS and Maxi Sport strengthen their partnership with a new warehouse in Landriano, Italy
GEODIS, the logistics partner of Maxi Sport, opens a new dedicated storage space at its Landriano warehouse in order to ensure end-to-end delivery for the sportswear retailer throughout Italy.
GEODIS has been handling increasing volumes of both in- and outbound flows for Maxi Sport in Italy since 2012 in order to support its development.
This new storage space of 5,000 square meters located at the heart of the Landriano site fully meets the new storage location requirements of Maxi Sport. Landriano's strategic location for Maxi Sport's points of sale helps speed up deliveries to the retailers as well as to the end-users. Approximately one third of the 800,000 pieces of sportswear handled each year goes for e-commerce orders of the maxistore.com online site.
Furthermore, GEODIS provides a more flexible supply chain management to Maxi Sport when it comes to ensure management of seasonal peaks.
"Supporting the business of a leading customer like Maxi Sport drove us, once again, to search for new end-to-end solutions, especially in this sector where the care for the final product and smart logistics management are key elements" - says Francesco Cazzaniga, Contract Logistics Managing Director for GEODIS in Italy.
"Maxi Sport is a fast- growing and evolving company" – explains Ester Sala, Head of Marketing & E-Commerce at Maxi Sport - "Our most important demand is swiftness throughout the supply chain, from the choice of the product to the delivery to the final customer. This is the reason why the partnership with GEODIS is so successful, as they grant us high-level quality and yet flexible services."
MAXI SPORT – www.maxisport.com
Maxi Sport was founded in 1989 and is a sportswear retailer combining style and hi-tech design. With over 20,000 products of the best sports brands on the market, Maxi Sport offers wide range of sports clothing, sneakers and technical equipment for most sports.
With its three stores of over 8,500 square meters located in Lombardy, near Milan, and with its online shop www.maxisport.com, active throughout Italy, Maxi Sport successfully continues its expansion on the Italian market.