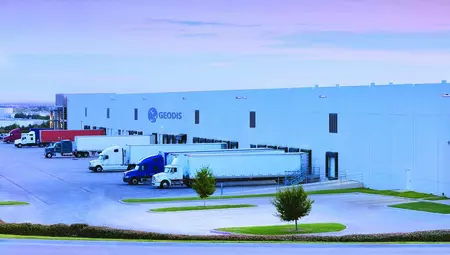 Tue 03/11/2015 - 12:00
GEODIS announces completion of OHL (Ozburn-Hessey Logistics) deal
GEODIS is pleased to announce that it has received the regulatory approvals and officially completed the acquisition of OHL (Ozburn-Hessey Logistics) based in Nashville, Tennessee (USA). OHL is one of the leading 3PL companies in the USA, with annual revenue in excess of €1.2 billion. This acquisition is effective as of today.
The combined structure will generate a consolidated annual turnover of over €8 billion with more than 38,000 employees and 165,000 customers. With around 400 logistics warehouses in the world, additional Freight Forwarding capability and enhanced e-fulfillment expertise, GEODIS expands its global footprint and builds a solid platform to better serve its clients.
"The acquisition is a great achievement for GEODIS and a significant step toward our "Ambition 2018" strategic plan – to be the global growth partner for our clients," states Marie-Christine Lombard, CEO of GEODIS. "This acquisition allows us to offer a market leading set of solutions on a global level with enhanced expertise at each phase of the Supply Chain". She adds: "I'm delighted to welcome Randy Curran, CEO of OHL, as a new member of GEODIS' Executive Committee. His in-depth knowledge of the US market and global experience will add greatly to our leadership team."
"The merger of our two companies makes outstanding sense. It's a great opportunity for OHL and its employees to join GEODIS which is recognized for its high quality service level, professionalism and broad global, logistics capabilities" said Randy Curran, CEO of OHL. "By offering GEODIS' European customers our capabilities and opening to our US based customers GEODIS' global capabilities in the EU and elsewhere, we aim to enhance our existing customer relationships and attract new ones." He adds: "from the beginning the cultural fit between our two companies has been remarkable and will be a source of strength going forward."
Founded in 1951, OHL is one of the leading 3PL companies in the world, operating more than 120 value-added distribution centers in North America with over 36 million square feet of flexible warehouse space, and providing integrated global supply chain management solutions including transportation, warehousing, customs brokerage, freight forwarding, and import and export consulting services.
Employing over 8,000 transportation and fulfillment professionals, OHL has unparalleled experience in direct-to-consumer fulfillment, serving a wide range of business sectors from specialty retail to manufacturing. OHL specializes in the sectors of apparel, electronics, healthcare, food and beverage, and consumer packaged goods.
GEODIS offers tailor-made solutions in over 67 countries through its five lines of business: Supply Chain Optimization, Freight Forwarding, Contract Logistics, Distribution & Express and Road Transport. With over 120,000 customers and 30,000 employees, GEODIS's annual revenue amounts to €6.8 billion.
Earlier this year, GEODIS unified its portfolio of businesses and services under one unique brand: GEODIS. In time, OHL will also be rebranded as GEODIS.
The transaction for this acquisition is financed with available cash resources, and through existing and new debt arrangements.