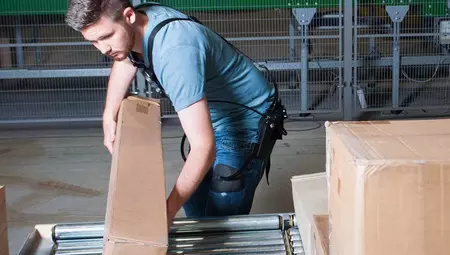 Tue 11/04/2017 - 12:00
GEODIS introduces Exoskeletons for Warehouse Staff
Mechanical braces to be provided to ensure the health of employees.
GEODIS has launched the use of exoskeletons to support and protect employees' backs during their work in its warehouse in Venlo, the Netherlands. Staff wear the exoskeletons – an external type of brace – for lower back support as they lift and carry objects during their pick and pack activities. The exoskeleton gives support via a spring system that acts as a type of counterweight. When the employee bends over, the spring pushes back so that the load on the back is reduced by 40 percent. "Staff are fitter after a working day thanks to these skeletons," says Sjors van Enckevort, Site Manager Contract Logistics at GEODIS in Venlo.
The use of such aids is becoming very important in the logistics sector. Health and safety are at the core of the company's Business Excellence approach. At the Venlo site employees who carry over 4,000 kilograms a day benefit from the back support that the exoskeleton provides during their picking activities. Three employees currently wear a personalized exoskeleton during their work in the distribution centre at Venlo.
While the exoskeletons available at the Venlo facility prevent back injury, the company is exploring further possibilities. This type of exoskeleton is 'passive', meaning that they follow the user's movements, adjusting pressure without impeding movement. There is now increasing interest in the development of an 'active' exoskeleton, which would extend support to the employee's arms as well. GEODIS sees great value in the adoption of these aids and is following advances in the area closely. "A responsible employer, GEODIS pays special attention to the health of its employees. We place great store by these kinds of innovation. . Depending on the results of their performance in Venlo, we will plan on deploying them more widely across our network in the future" stated Laurent Parat, EVP Contract Logistics for GEODIS.