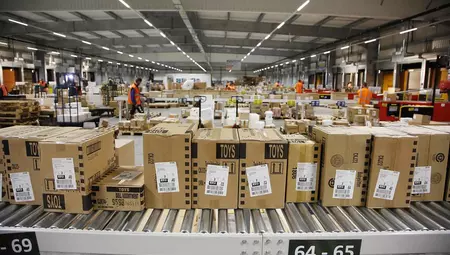 Thu 05/07/2018 - 12:00
GEODIS lends its expertise to CDiscount, French e-commerce leader
GEODIS and Cdiscount are expanding their logistics partnership with the opening of an 80,000 square meter storage facility in Moissy-Cramayel (in the Seine-et-Marne department of France) in order to manage products weighing less than 30 kilograms sold by the French e-commerce leader.
As part of its development strategy, Cdiscount has entrusted GEODIS with the operation of its new logistics platform in Moissy-Cramayel, located in the Seine-et-Marne department in the southern Île-de-France region of France. In less than three months, GEODIS teams have successfully opened this 80,000 square meter facility, which can store up to 18,000 items and which will, over time, handle the shipping of 3.5 million packages per year.
"With the location of this new facility, our promise to the customer is strengthened in the Paris region," explained Grégory LOCQUENEUX, Logistics Director at Cdiscount. He emphasized, "GEODIS has demonstrated its expertise and agility, not only by supporting us through the start-up phase of this facility but also by working alongside us over time as a true partner in our development strategy."
GEODIS has taken responsibility for all logistics services, from reception and storage to preparation of products weighing less than 30 kg, at widely varying volumes. The facility houses eight product categories, ranging from landscaping products and animal care to bedding, tools, healthcare products, small household appliances, childcare, small leather goods, home décor and tableware, and furniture.
"We are proud to be a trusted partner of Cdiscount's e-commerce leader in France. An increased acceleration flow in this market, combined with the management of a large and complex volume of products, requires expertise on our side," explained Frédéric PASQUAL, Contract Logistics France Managing Director at GEODIS for FMCG-Retail, High Tech and Healthcare. "With this partnership, GEODIS has strengthened its position as the contract logistics leader in France's e-commerce pure player sector."