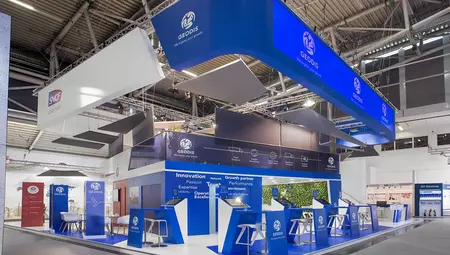 Tue 09/05/2017 - 12:00
GEODIS presents its insights to Supply Chain trends, challenges & innovation at TL Munich from May 9 to May 12, 2017
GEODIS experts will present the company's expertise and vision of the supply chain trends & challenges during the 2017 TL Munich trade fair in Munich from May 9 to May 12, 2017.
A Supply Chain Operator, ranking among the top logistics companies in the world, GEODIS has Innovation as one of its five corporate values. At the Transport Logistic trade fair in Munich, GEODIS will present its set of expertise covering the Supply Chain. GEODIS will also hold a public conference during the fair on May 10, to present its latest innovations, its new World Lab and its worldwide survey on Supply Chain trends & challenges. This conference will also be a place to discuss with Carlo RATTI, guest speaker for GEODIS, around Digitalization, data mining & Supply Chain Optimization. All of that to fulfill GEODIS' mission of being the growth partner for its clients.
At this conference, Marie-Christine LOMBARD, Chief Executive Officer of GEODIS, will explain how GEODIS is well positioned to help its customers overcome their logistical constraints and face the logistical challenges of tomorrow: "Being innovative requires us to anticipate and respond to major developments in our markets and identify underlying trends that will change the face of our sector".
Following this introduction, Boris PERNET, EVP Supply Chain Optimization at GEODIS will unveil the revealing insights resulting from the Global Supply Chain White Paper produced by GEODIS. This White Paper, published for the first time at TL Munich, is based on the findings of a unique market survey that analyzes the responses of 623 professionals from 17 countries, across differing functions (Supply Chain, Finance, Operations, Marketing, Strategy, Information Technology, etc) and from a variety of management levels (C-level, Senior Executives, Directors). It pinpoints precise and insightful Supply Chain trends and challenges.
Philippe De CARNE, VP Innovation at GEODIS and Luca SILIPO, Chief Economist at GEODIS, will continue with further insights. Philippe De CARNE will present details on the ongoing innovative projects being undertaken by GEODIS. He will focus on the environmental impact of the supply chain and on urban logistics projects, on technological advances in contract logistics and on the digital revolution in Supply Chain management. As Big Data has a key role to play, now and in the future, Luca SILIPO will introduce the recently created GEODIS World Lab, whose role is to oversee the main worldwide trends & evolutions and translate those into strategic thinking.
This conference will also contain a keynote speech by Carlo RATTI entitled "From Digitalization to sensors, data mining & Supply Chain optimization". An architect and engineer by training, Professor RATTI teaches at Massachusetts Institute of Technology, where he directs the Senseable City Lab, and is a founding partner of the international design office Carlo RATTI Associati. He is currently serving as both a member of the World Economic Forum Global Agenda Council and special adviser on Urban Innovation to the European Commission.
To learn more about GEODIS' vision of the future of the supply chain, we invite you to attend the GEODIS conference or to meet our experts on our booth:
GEODIS conference at TL Munich
May 10, 2017,
2:30 pm
Conference Room # A52, Hall A5
Meet our experts at GEODIS Booth, Hall B5, Stand 303/402