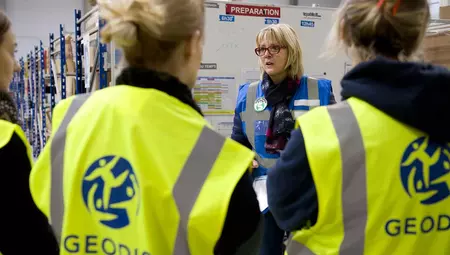 Tue 21/07/2015 - 12:00
GEODIS receives Investors In People accreditation for its Contract Logistics Line of Business in seven countries
After a six-month internal assessment performed last spring on more than 300 employees, GEODIS Contract Logistics has been certified Investors in People (IIP) for its operations in France, Italy, Germany, Netherlands, Ireland, Poland and Hungary in June 2015.
An international business tool designed to ensure improving performance, Investors In People focuses on developing employee commitment. IIP certification is based on the idea that a company performance is linked to how employees understand the company's strategy and their own contribution to the company's success. Investors In People, an independent body, awards accreditation after a comprehensive external assessment in which more than 119 separate items are inspected.
"Investors In People is a really valuable label which tells our stakeholders – our customers, our employees and our candidates – that we are a company that cares for its employees." explains Laurent Parat, GEODIS Contract Logistics' EVP, adding: "it's a cornerstone in our ambition to be the growth partner for our clients".
In the context of the Group's Ambition 2018 plan, GEODIS is planning for all of its units to have received Investors In People (IIP) accreditation by 2016. GEODIS Freight Forwarding is already IIP certified for all its operations throughout the world. The Head Office was also accredited in last December. 17,000 people in the GEODIS group are now covered by an IIP accreditation.
Investors In People is at the forefront of the GEODIS's approach to Human Resources management. "IIP is more than a plan and a series of tools. Its standards are embraced by everyone in the organization. This accreditation for our Contract Logistics' Line of Business is a major milestone on our path to Group wide certification by 2016." declares Elisabeth Rasmussen, GEODIS' Human Resources VP.