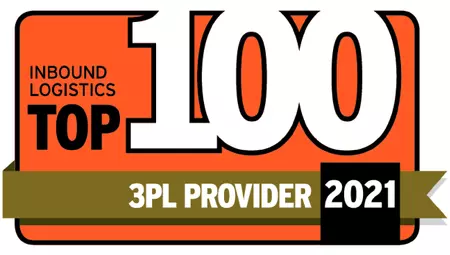 Mon 23/08/2021 - 18:21
GEODIS Selected as a Top 100 3PL Provider for 2021 by Inbound Logistics
Global leading transport and logistics provider GEODIS has been named as a Top 100 third-party logistics (3PL) provider for 2021 by industry publication Inbound Logistics. Inbound Logistics' highly anticipated annual list recognizes the top 3PL providers who are deemed the best equipped to meet and surpass the industry's evolving outsourcing needs.
"It is an honor to be recognized by Inbound Logistics as a Top 100 3PL provider for 2021, particularly now as our industry continues to face ongoing challenges related to the COVID-19 pandemic," said Mike Honious, GEODIS in Americas President & CEO. "I'm proud of how agile and resilient our team has been through it all, and this acknowledgment showcases the value that our state-of-the-art services and solutions are offering to our customers to best solve their unique logistics needs."
Each year, Inbound Logistics editors select the best logistics solutions providers by evaluating submitted information, conducting personal interviews and online research, and comparing data to its audience's burgeoning global supply chain and logistics challenges. Companies are assessed based on services, solutions, technology investments, geographic coverage and financial stability. Editors selected this year's class of Top 100 3PLs from a pool of more than 300 companies. The service providers selected are companies that, in the opinion of editors, offer the diverse operational capabilities and experience to meet to its audience's unique supply chain and logistics needs.
"When choosing the 2021 Top 100 3PL Providers, Inbound Logistics editors specifically targeted providers who offer the innovation, visibility, flexibility, speed and control that drive the supply chain solutions our audience needs to achieve their goals and meet customers' evolving needs," said Felecia Stratton, Editor of Inbound Logistics. "Inbound Logistics is proud to honor GEODIS for innovative solutions empowering logistics, supply chain and transportation excellence in 2021."
Inbound Logistics' Top 100 3PL Providers list for 2021 can be found on its website here.