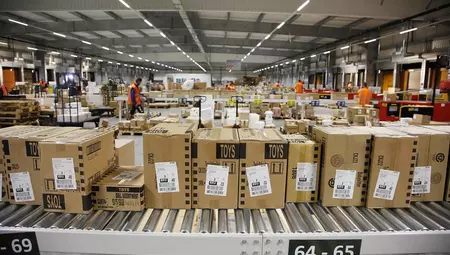 Thu 11/01/2018 - 12:00
GEODIS Sets Holiday Record with 2.3 Million Orders Fulfilled in the U.S.
2.3 million orders shipped from Black Friday through Cyber Monday is a 14 percent increase from 2016 orders.
Further reinforcing the growth of online retail, global supply chain operator GEODIS announces that the critical four-day Thanksgiving shopping holiday was a record-breaker for the company's U.S. operations. The company recorded a 14 percent year-over-year increase in ecommerce orders across its 44M square feet of warehousing space from Black Friday through Cyber Monday. This increase came from growth in orders of both new and existing customers.
"This kind of record-breaking performance requires the synchronized and collaborative efforts of GEODIS' warehouse operations and technology support teams," said Mike Honious, Chief Operating Officer for the Contract Logistics line of business in the U.S. "Every department plays an important role, so staying present and engaged is key. Next, we focus on communicate, communicate and communicate to ensure we are meeting our customers' needs."
The American National Retail Federation (NRF) projected that retail sales will grow 4 percent over 2016 during the November and December shopping season in 2017. It projects 76 percent of all shoppers will be shopping online this holiday season.
While GEODIS serves many industries in the U.S, this time of year has a retail focus with many retailers doing 30 percent of their annual sales over the 6-week holiday period.
"Late November and December is all about retail," added Honious. "Thanks to the dedication of our employees, we have been capable of supporting a peak order volume ten times our average daily volume."
GEODIS hires roughly 5,000 seasonal employees during this peak season in the U.S. to ensure that customers' demands are met.  GEODIS is known for meeting delivery demands during peak season. The Gartner Group, a renowned research organization in the supply chain, ranked GEODIS as "one of the top companies that has the agility and ability to adapt to customer needs."