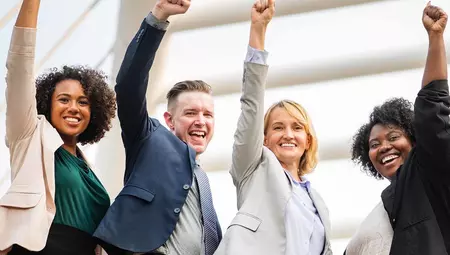 Fri 12/06/2015 - 16:50
GEODIS voted Airfreight Forwarder of the year for a fourth time
The ACW World Air Cargo Awards are among the most prestigious in the industry - and GEODIS has now won the accolade of Airfreight Forwarder of the Year for a fourth time. The award presentation was made to Henk Venema, Global Product Director Air, at a ceremony during the world's largest transport and logistics event, at TL Munich, in Germany.
Kim Pedersen, Executive Vice President of GEODIS Freight Forwarding, said, "We are honored that our customers around the world have recognized our consistent standard of air freight service by voting for GEODIS in such numbers once more. Under the recently unified banner of GEODIS we are proud to receive the recognition that our airfreight product is differentiating and a key solution in our efforts to help our customers overcome their logistical constraints."
Marie-Christine Lombard, CEO of GEODIS, added: "Being an award based on our customers' votes, this achievement perfectly underlines what GEODIS stands for. It emphasizes that we, as a key provider of supply chain solutions, indeed are a strategic partner for our clients in their ambition to grow their international business."
The key criteria on which voters were asked to rate entrants in the Airfreight Forwarder category were global coverage, customer service, focus and performance, as well as commitment to developing technology. GEODIS prevailed as the winner from a short-list of service providers that represent the world's top selection of global forwarding and logistics companies.
Prior to this year, GEODIS also won the same award in 2010, 2011 and 2014. The awards, which are hosted every year by the industry publication, Air Cargo Week are presented during of the world's largest transport & logistics conferences, TL Munich and TL Shanghai.