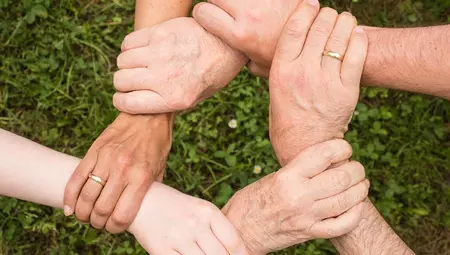 Mon 28/09/2015 - 12:00
GEODIS renews its commitment with Handicap International
On 18 September 2015, Marie-Christine Lombard, GEODIS' Chief Executive Officer, handed a check for €11,000 to Magali Deneufchâtel, Managing Director of Handicap International France. GEODIS' support for this non-governmental organization (NGO) is proceeding for the second year running.
The partnership with Handicap International stems from an initiative of Geodis' employees, who for the annual customer satisfaction survey in 2014 suggested that the company should donate one euro to the NGO for each questionnaire returned. Last year's donation helped finance schooling for 360 disabled children in Indonesia.
Geodis repeated the operation this year, again with direct involvement from the Geodis workforce and, indeed, their customers. In all 10,462 questionnaires were processed, representing a response rate of around 11%. The funds collected will again be used to finance the school program in Indonesia.
The initiative runs under the Geodis Corporate Social Responsibility policy. By combining its employees and its customers' commitment with its corporate values, Geodis asserts its position as a responsible group with a long track record of helping disabled people and countering social exclusion.
After the Nepal earthquake in April, Geodis donated €5,000 to Handicap International to help it send out emergency kits including cooking utensils, hygiene products, tents and survival blankets.
Then this year Geodis is also supporting Handicap International in its "Pyramid of Shoes" operation, on September 26, to raise government awareness on the need to eradicate anti-personnel mines and cluster munitions. Specifically, Geodis has delivered palettes of shoes ahead of the event, at no cost. Some two tons of shoes have been dispatched from the Genay Distribution & Express agency (near Lyon) to cities staging the operation throughout France.
"We're delighted with the regular support we get from Geodis, a group whose commitment and sense of responsibility clearly echo our values of solidarity of trust," notes Magali Deneufchâtel.
"Our partnership with Handicap International is a long-term workforce-wide commitment for Geodis. As an international group whose business spans the globe we are able to sustain a firm stance to defend our values of commitment, innovation, trust, solidarity and passion, as exemplified by our regular cooperation with Handicap International," declared Geodis CEO Marie-Christine Lombard at the latest donation ceremony.