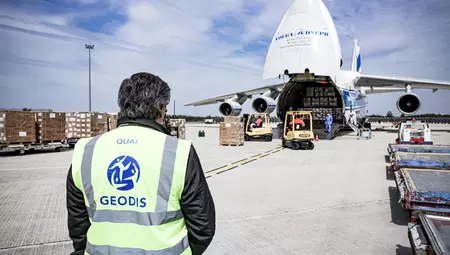 Fri 10/07/2020 - 14:37
Volga-Dnepr Partnered with GEODIS to Complete Mega Project of 48 x AN-124 flights Delivering Medical Supplies to France
Volga-Dnepr Airlines and GEODIS recently completed a large charter program to deliver urgent supplies of facemasks and PPE to France, operating a series of 48 x Antonov-124 flights within a 90-day period between April and June 2020. 
By contracting with Geodis to set up a "Pont Aérien" (French Air Bridge), the French Ministry of Solidarity and Health has secured the supply of very significant quantities of personal protective equipment for caregivers. 
Volga-Dnepr Airlines was chosen by GEODIS to support a reliable and efficient air-bridge linking Shenzhen, China and Paris-Vatry airport utilising an unrivalled fleet of 12 x AN124 freighters. The first Antonov-124 flight landed in Vatry on the 30th March, with the last flight touching down 3 months and 3,000 tons later. 
The unprecedented scale of the airlift was defined by the unique supply challenges posed by COVID-19 to front line medical staffs, pharmacies and hospitals in France. The air bridge encountered a number of obstacles, including crew quarantine restrictions, severe congestion at Chinese airport terminals, and immense pressure on Chinese export traffic. The teamwork between Volga-Dnepr Airlines and GEODIS ensured that all challenges were overcome and cargo was delivered exactly on time every time. 
With a flight landing every 48 hours in Vatry, nearly 400 million face masks were delivered along with surgical gowns and other medical equipments. By the end of the program, the giant airlift capabilities of Volga-Dnepr's AN124 fleet had transported nearly 30,000 cubic metres of protective medical equipment from Southern China. 
Upon arrival to Vatry airport, the vital medical supplies were transported under police escort and supervision to six forward warehouses around France, for onward distribution to medical practitioners and medical facilities. 
"We are delighted to be working with a reliable and professional partner such as Volga-Dnepr Group who, not only offers a large fleet of aircraft but also understands the complexity and criticality of the market situation and has proven its ability to permanently adapt and adjust to the challenges. GEODIS has been working with the Volga-Dnepr group for many projects in the past and the airline is now one of GEODIS Air Direct main partners." says Stanislas Brun, GEODIS' SVP Global Air Freight. 
Volga-Dnepr Group has played a leading role in the air cargo response to COVID-19, having established a central medical support cell and a new health-centred strategy to deal with the effects of COVID-19 on its air global scheduled and charter air cargo business. The group and its partners have developed a unique three-prong approach to it's business covering hardware, software, and liveware factors for its operation of a 45-strong fleet of all-cargo aircraft. 
Stuart Smith, Global Director Humanitarian, Volga-Dnepr, who oversaw the program concluded that "This was a unique airlift challenge, given its size, frequency and the epidemiological factors that our operating crews and all stakeholders have faced. The fact that we were able to deliver all 48 x flights exactly on schedule is testament to the hard-work and huge intra-team co-operation between GEODIS, Volga-Dnepr Airlines, Vatry airport and Shenzhen airport. Everyone was truly united in this project".